PRINCETON PAINTINGS by artist Robert Hummel. Original paintings and prints of Princeton are available to purchase. Collected by residents, visitors, Alumni and others who have a love for everything PRINCETON. Available at Chez Alice Gourmet Cafe and Bakery on Princeton's Palmer Square or by contacting the artist Robert Hummel.


NEW: Showery Night on Witherspoon.

NOW ON VIEW THROUGH AUGUST AT CHEZ ALICE CAFE ON PALMER SQUARE.
Info on the cafe - Chez Alice
NEW 3 x 4 foot Princeton painting.
On May 6th 1937 the Hindenburg was seen flying over Princeton University before arriving at the Navel Base in Lakehurst N.J. on that historic day. Artist Robert Hummel has recaptured that scene as it flew over Pyne Hall for the 80th anniversary in May 2017. Being custom framed in wood and available to purchase and for exhibit. See the Video of the making of this painting here.

Witherspoon Street at Night
Princeton painting of the historic Lahiere's restaurant.
Now Agricola Restaurant .
Prints available 8 x 10 matted Prints $45.00
11x 14 giclee prints framed 175.00
16 x 20 signed giclee prints 300.00

See more of Artist Robert Hummel's painted images on this slide show below.


ARLEE'S RAW BLENDS
Another business portrait created by Robert. Why use just a photo that most people go past in your advertising. Get a image created by Artist Robert Hummel that stands out & gets the attention you deserve. You get an original painting to display and digital use for your marketing needs. Rhummel1@aol.com


This VIDEO features a painting by artist Robert Hummel inspired from the 1938 War of the Worlds radio broadcast. - Not far down the road from Princeton NJ is the town of Grovers Mill - in 1938 it was the location of a Halloween prank by Orson Welles and his Mercury theater on the air radio team that had many listeners believing earth was being invaded by Martians. See more at www.BattleAtGroversMill.com
Or here on Facebook


Princeton paintings and prints by artist Robert Hummel. Below: Painting
"An Autumn Night at Saint Pauls Parish"
16 x 20" Sold 1,500.
8x10 matted prints available 45.00 or 16 x 20 canvas giclee prints can be customized with a couples name and date your Wedding


Below: "A summer night on Palmer Square" Chez Alice cafe as seen from across the Street from the garden in "Tiger Park" on Palmer Square. Purchase this 16 x 20 framed original now in the cafe at 5 Palmer Square West. Chez Alice Cafe.


The Princeton home of Albert Einstein PAINTING SOLD/ Prints are available Title: 112 Smarty Pants Lane "Albert's up to something tonight" Featuring the Princeton home of Albert Einstein. Original framed 16x 20 canvas painting was $1,350. Canvas bags and T-shirts with this image are coming soon for the Genius in your family! Get an amazing 16x 20 hand embellished canvas print for 300. Or a small 8 x 10 matted 45.00 11x14 giclee print in a framed and matted for 150.00. Contact me or visit Chez Alice Cafe at 5 Palmer Square in downtown Princeton N.J. See Facebook link for more.


EAST PYNE PRINCETON UNIVERSITY Original SOLD $1,500. Order a signed and embellished 16 x 20 giclee canvas print for $300. Smaller 8x10 matted prints only 45.00. Title: "A Classic Moonlit Night at Princeton." Featuring the ornate and beautiful department of Classics building at Princeton University built in 1893. Featuring the statue of John Witherspoon, a former University President and signer of the Declaration of Independence. ORIGINAL was 18 x 24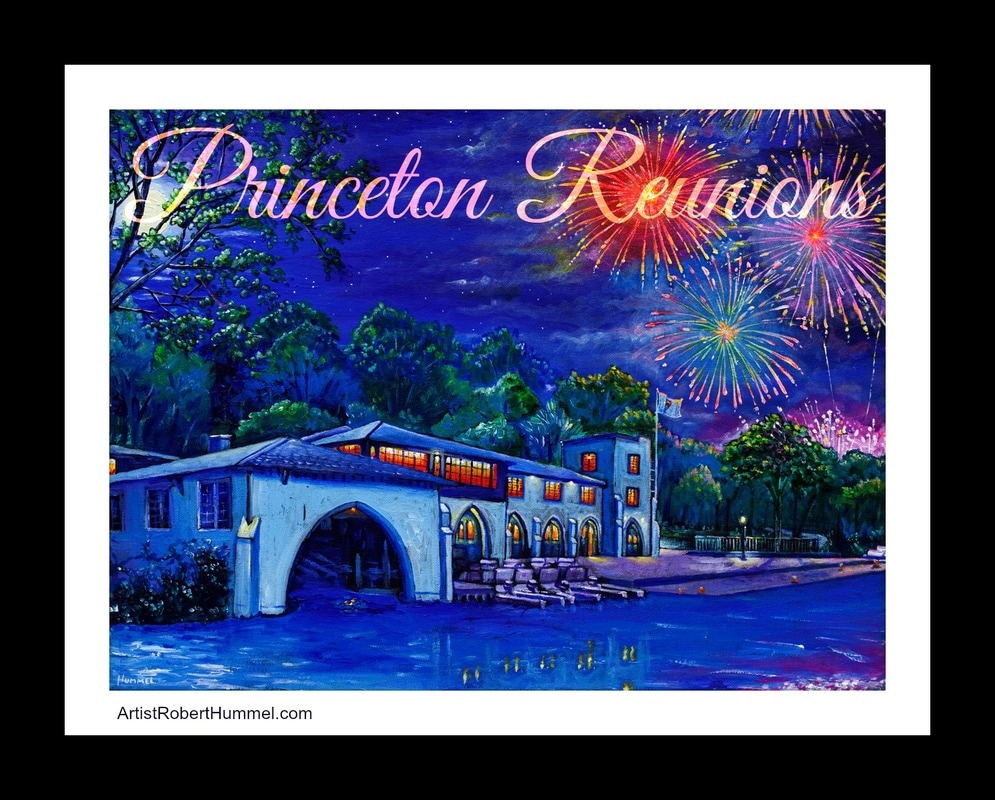 ---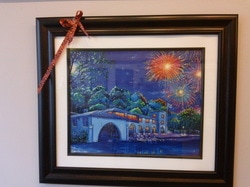 ---
Princeton's Carnegie Lake & boat house as seen in my painting are home to the US Olympic Rowing Team. They live with host families and work here. Next time you have coffee in town you may be sitting next to an Olympic champion! Princeton's crew can also be seen daily practicing rain or shine.

Painting title above:
"REUNION REFLECTIONS"
Large framed canvas hand embellished print as seen above can be specially ordered. 16 x20 framed embellished with acrylic canvas giclee prints are available now. Call to order 609-571-2200 with local delivery 300.00 Unframed option can be shipped in a mailing tube at a reduced price. This was inspired by the spectacular Princeton University Alumni fireworks as seen below. They put on one AMAZING SHOW! Notice the full moon... Call 609-571-2200 or via contact page to order a print in various sizes. The original sold quickly after I created it and is one of several sold to a CEO who's wife is a Princeton Graduate and also enjoys the fireworks.

---
See Why artist Hummel called his Painting "THE FOUNTAIN OF FUN"
by clicking the Youtube below. More interesting facts on this fountain from Princeton University and the Orange key tours
http://www.princeton.edu/~oktour/orangekey/
"Fountain of Freedom"
Students celebrate in the "Fountain of Freedom" AKA "Woody Woo Fountain" after handing in their theses The fountain in front of the Woodrow Wilson School was created by James Fitzgerald in 1966 and is one of the largest bronze castings in the United States. Fitzgerald named his work the "Fountain of Freedom" to symbolize Woodrow Wilson's vision of lasting world peace.
For some Princeton seniors, however, the fountain represents a different kind of freedom: the completion of their senior theses. Each spring, Woodrow Wilson School seniors continue the tradition of jumping into the fountain after handing in their papers. Also, whenever the Tigers win a home football game, the Princeton University Band plays a celebratory a concert from inside the fountain's pool.
www.Facebook.com/PrincetonArtImpressions.com
and www.PrincetonArtImpressions.blogspot.com

Commissions of any size and any town are always welcome. Artist Hummel also can create a special painting of your home, estate, school, University for a one of a kind painting from any state or location from photos. Surprise someone you know with a painting as a gift. Artist Robert Hummel. 609-571-2200 rhummel1@aol.com


New for Holidays 2017 "So Long Santa"
22 x 28 original framed acrylic on canvas painting available now at Chez Alice Cafe and Gourmet Bakery on Palmer Square in Princeton NJ - Jan 31st www.ChezAliceCafe.com
3,500.
Santa Claus departs Princeton over the Nassau Inn on a snowy Christmas Eve night. Painting by artist Robert Hummel. Inquire about prints via message or rhummel1@aol.com.



Commission a home / estate painting for yourself or as a one of a kind surprise gift!
Just one few of many custom home /estate portraits below. A Pennsylvania home painting for a client who loved winter and decorating her home for the holidays. Painted using a series of photos sent to me of her home. Below is also a very historic estate in Princeton. Paintings can be created in any season you desire. To see more visit www.facebook.com/PrincetonArtImpressions
Like and follow: To stay informed on my
new projects and behind the scenes at the studio.

Title of painting below:
"A Spring Night At The Nassau Inn"
Original sold within days of introduction and prints are now available.
This painting is available as a frame or unframed print.
Did you know that when inside the Yankee Doodle Tap Room you can see a photo wall of Who's Who that went to Princeton University. See photos of the young Michelle Obama, Brooke Shields, Jimmie Steward and many many more. This Restaurant also has an original mural commissioned by Norman Rockwell.
Visit or stay at this beautiful historic hotel by clicking
The Nassau Inn
and while there visit Chez Alice Cafe and Bakery within feet of the Inn to see and purchase original paintings and canvas prints.

Title of painting below: An Autumn Night At Whitman College. Purchase a framed 16x20 hand embellished canvas print now for 300.00 at Chez Alice Cafe or by emailing me via this site or at 609-571-2200
Below if just a bit of info on Whitman College that was named for Meg Whitman formally of EBay and now HP and a Princeton University Graduate. This painting (summer version, the image below is an updated Autumn scene) and was commissioned by a "Mazo" family member as a family gift and who funded the building of the beautiful open green space called "Mazo Green" at Whitman. An octagon shaped plaque lists the entire family that are all Princeton Graduates It truly is beautiful and worth a walk on campus to see.

Title of painting below:
"An Autumn Night At The Princeton Chapel"
Purchase a framed print from this original canvas painting.
One of my favorites and glad it went to a good home!
16 x 20 Original Sold
Great for Princeton Reunion gift giving or for a recent graduate Order a print of this starting at 16x20 - $350 - 400. for an outstanding hand embellished, framed canvas print. It looks just like an original! call to place an order or see one in person at the Cafe in Princeton while supplies last. www.ChezAliceCafe.com Robert at 609-571-2200 or via contact on this site.

There is only one original and nothing like owning it and as it increases in value and popularity you become the sole owner.
Comment from an art gallery owner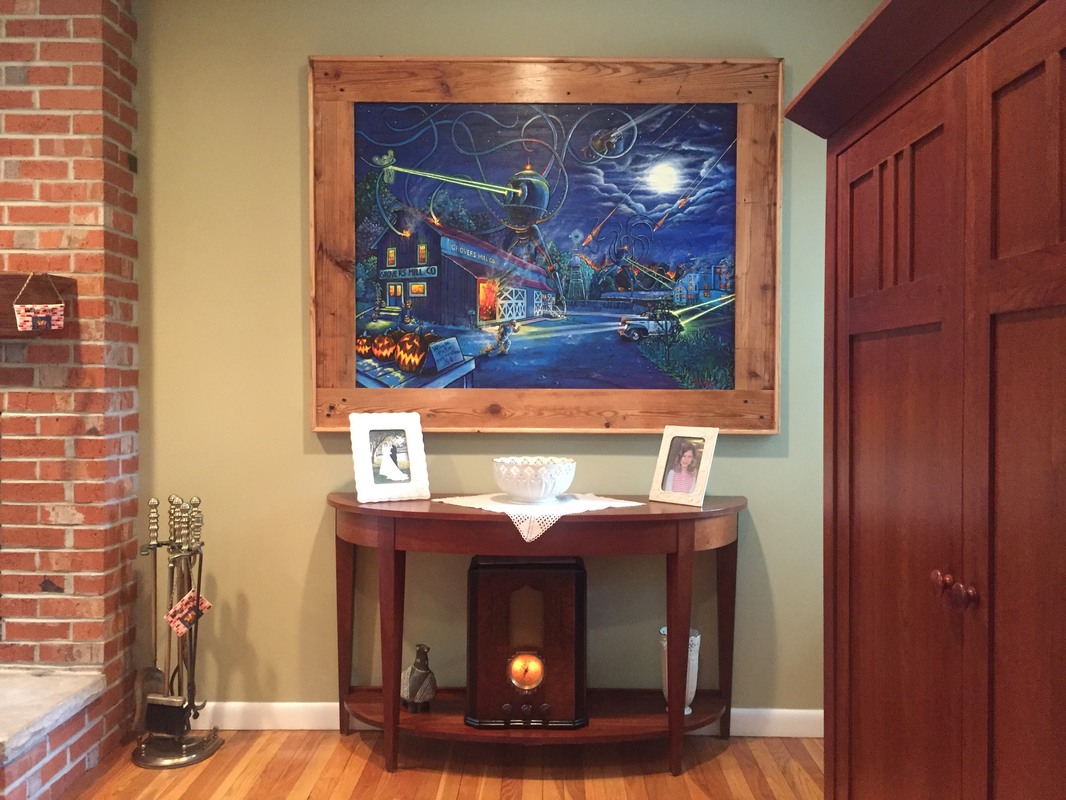 ---
Below is a video of the first scene I painted in 2008 for the 70th anniversary of the radio broadcast. Above you will see the new version and scene two, the escalation of The Battle At Grovers Mill New Jersey www.BattleAtGroversMill.com
Scene number three will feature the Princeton University Observatory under attack in 1938 and the Martians will then head towards the George W Bridge in scene four of the series, all inspired from the Orson Welles broadcast. Stay tuned.
Below is a fun video created by Lynne Elson www.LynneElson.com featuring my Battle at Grovers Mill Painting #1